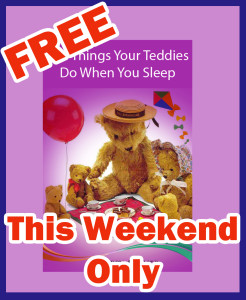 For this weekend, today (Saturday 5th October) and tomorrow (Sunday 6th October), The Things Your Teddies Do When You Sleep is available as a FREE Kindle download.
This charming story by Poppy Archer shows your child some of the mischief their teddy bears get up to when they are asleep, from reading their books to protecting them from nightmares.
A beautiful bedtime story for any young child, grab a free copy for this weekend only.
It is also available for free on Amazon in other countries, including:
Grab your free copy of this delightful book today and witness your child fall in love with the story and illustrations!