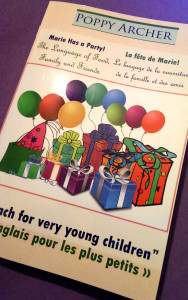 Our bilingual picture book for young children to learn about the language of food, friends and family, while enjoying an entertaining story about a child's birthday party is available in print at Lulu.
Marie Has a Party! / La fête de Marie! tells the engaging tale of Marie's birthday party in both English and French. Children and parents can read the story exclusively in English or French, or they can read both languages simultaneously. It is a wonderful way to help children to learn a new language at a time in their life when they learn vocariously and pick up new words and accents easily.
The Lulu print of the book is great quality, and definitely worth buying!
Grab your copy of Marie Has a Party! / La fête de Marie! / The Language of Food, Family and Friends / Le langage de la nourriture, de la famille et des amis