Pod Children's Charity is a nationwide charity that organises entertainment for children in hospital.
POD Childrens Charity helps to alleviate the trauma of a hospital stay by sowing the seeds of fun, laughter and feeling better.
POD Childrens Charity magicians, puppeteers, musicians and clowns bring a little magic, fun and laughter into the lives of children in hospital. They give monthly shows in over 150 hospitals and hospices throughout the UK.
POD Childrens Charity has always believed that happy children get better quicker. When POD was founded in 1977 hospitals gave little thought to the emotional needs of sick children. Longer term hospital stays were more common. Visiting times for parents were restricted and outside stimulus for children in hospitals was almost unheard of.
Times have changed dramatically and POD Childrens Charity is proud to have been part of the progress in the thinking, attitude and approach to children in hospital.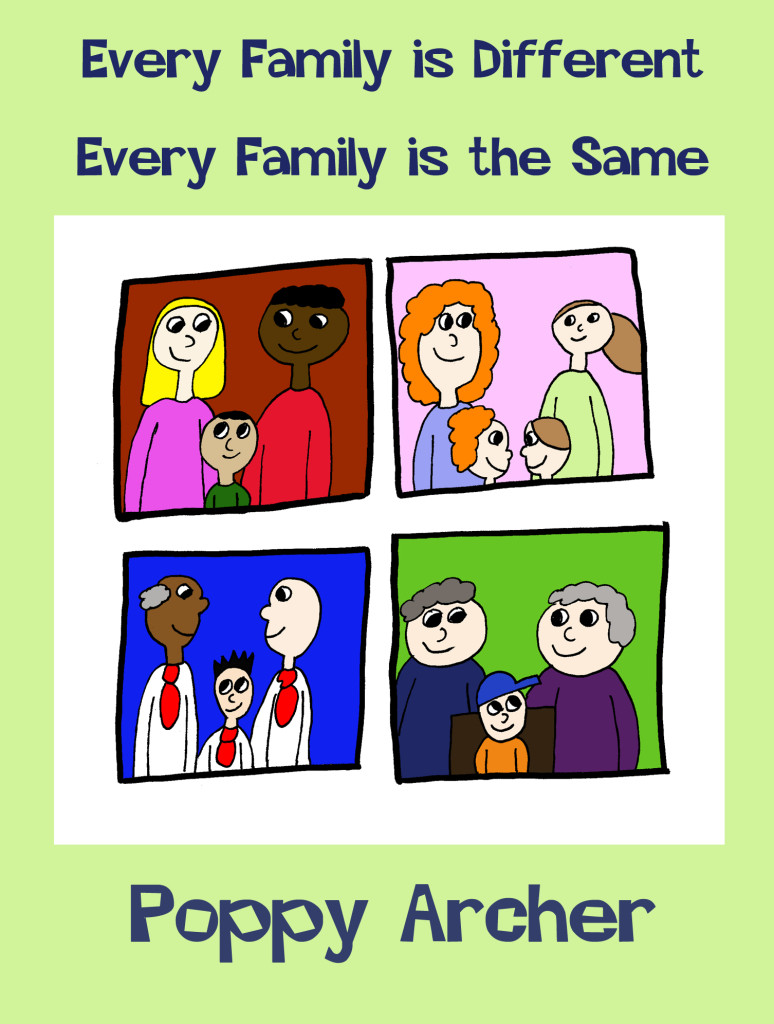 Children grow up in families that, on the surface, might look different. This makes Sally wonder why she has a brother when her friend has a sister, and this leads to a touching and moving story looking at the different families we find in the present day, all localised around Sally's street and her own family.
Children who have same-sex parents, who are being brought up by grandparents, who are in large families, mixed-race families, children in foster care will all find households they can relate to in this charming story, which normalises and celebrates difference, while looking for similarities between the people who are portrayed.
Every Family is Different. Every Family is the Same is available on Amazon Kindle, and will soon be available in paperback and hardback, too. Subscribe to this site and follow us on Twitter so you don't miss it!
In the meantime, grab a Kindle copy on Amazon USA or Amazon UK. We've already had an amazing review:
5.0 out of 5 stars Just what i wanted 8 Dec 2013

Format:Kindle Edition|Amazon Verified Purchase
This book was chosen as it looked just the thing to help me with my dissertation. I was not disappointed. It is written in a sensitive way and is suitable for children between 2 and 5.

It is excellent in a preschool environment when introducing diversity within families to children.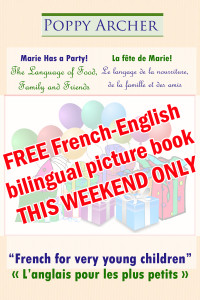 For today (October 26th) and tomorrow (October 27th) only, you can get hold of Marie Has a Party! / La fête de Marie! (French for Very Young Children / L'anglais pour les plus petits) for FREE!
It is a French / English bilingual picture story, #5 in the Kindle charts for French language learning books for children, and you can save yourself the usual $2.99 this weekend.
Grab the book now on: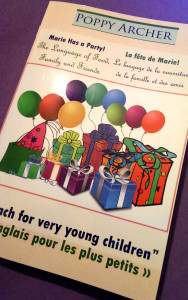 Our bilingual picture book for young children to learn about the language of food, friends and family, while enjoying an entertaining story about a child's birthday party is available in print at Lulu.
Marie Has a Party! / La fête de Marie! tells the engaging tale of Marie's birthday party in both English and French. Children and parents can read the story exclusively in English or French, or they can read both languages simultaneously. It is a wonderful way to help children to learn a new language at a time in their life when they learn vocariously and pick up new words and accents easily.
The Lulu print of the book is great quality, and definitely worth buying!
Grab your copy of Marie Has a Party! / La fête de Marie! / The Language of Food, Family and Friends / Le langage de la nourriture, de la famille et des amis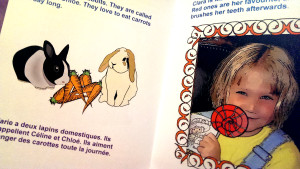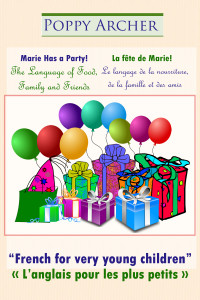 This gorgeous bilingual picture book describes Marie's birthday party, looking at the language of food, family and friends. Each page has text in English and French, making it a perfect way to expose young children to a new language in an engaging and interesting way.
As well as being available on Amazon Kindle as an eBook, it is now available as a paperback book from Lulu.
We're really excited to announce that a brand new eBook by Poppy Archer has been launched on Amazon Kindle.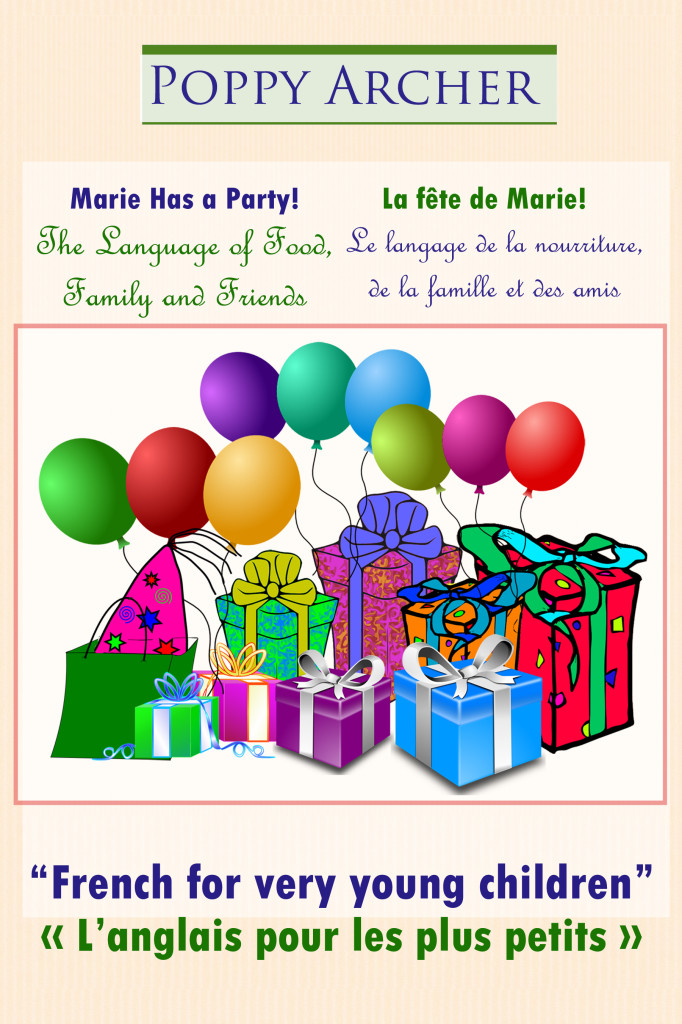 "Marie Has a Party! The Language of Food, Family and Friends" is part of the "French for very young children" series by children's author Poppy Archer.
This book is a wonderful way for children to learn a language while having fun and enjoying an age-appropriate story. When reading this French – English bilingual picture book, kids will not feel like they are "studying": they will simply love to hear of the people at Marie's birthday party, and what their favourite foods are.
The story is told in both English and French. Each part of the story is illustrated by a picture, and the two languages can be read in parallel or on their own.
Young children pick up new languages very naturally, so introducing a second language to them at an early age is an ideal way to start to develop their skills. "French for very young children" books are written by a native English writer who is also fluent in French. They are translated into French by a native French speaker, to ensure accuracy.
Children will learn the vocabulary for numerous foods, as well as different friends and family members. It is best suited for children between the ages of 2 – 6 years old.
//
« La fête de Marie ! Le langage de la nourriture, de la famille et des amis » fait parti de la série « L'anglais pour les plus petits » de l'auteur pour enfants Poppy Archer.
Ce livre donne la possibilité aux enfants d'apprendre une langue de manière exceptionnelle, en s'amusant et en profitant d'une histoire appropriée à leur jeune âge. En lisant ce livre illustré en anglais – français, les enfants ne ressentiront pas le fait qu'ils sont en train d'étudier : Ils adoreront simplement écouter les gens présents à la fête de Marie et découvrir leurs nourriture favorite.
L'histoire est racontée en français et en anglais. Chaque partie de l'histoire est illustrée par une image. Les deux langages peuvent être lus en parallèle ou chacun séparément.
Les jeunes enfants assimilent une nouvelle langue de manière naturelle, introduire un nouveau langage dès le plus jeune âge contribue au développement de leurs capacités. Les livres de la série « L'anglais pour les plus petits » sont écris par une native Anglaise très à l'aise avec le français. Ils sont ensuite traduits par un français natif pour garantir la précision des textes.
Les enfants apprendront le vocabulaire varié de la nourriture, mais aussi celui des amis et des membres de la famille. Il convient aux enfants entre 2 et 6 ans.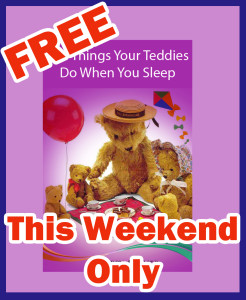 For this weekend, today (Saturday 5th October) and tomorrow (Sunday 6th October), The Things Your Teddies Do When You Sleep is available as a FREE Kindle download.
This charming story by Poppy Archer shows your child some of the mischief their teddy bears get up to when they are asleep, from reading their books to protecting them from nightmares.
A beautiful bedtime story for any young child, grab a free copy for this weekend only.
It is also available for free on Amazon in other countries, including:
Grab your free copy of this delightful book today and witness your child fall in love with the story and illustrations!
Louis' Story from Kidscape on Vimeo.
Kidscape is committed to keeping children safe from abuse. Kidscape is the first charity in the UK established specifically to prevent bullying and child sexual abuse. Kidscape believes that protecting children from harm is key.
What Kidscape offers
Kidscape works UK-wide to provide individuals and organisations with practical skills and resources necessary to keep children safe from harm. Kidscape staff and trainers equip vulnerable children with practical non-threatening knowledge and skills in how to keep themselves safe and reduce the likelihood of future harm.
Kidscape works with children and young people under the age of 16, their parents/carers, and those who work with them.
Kidscape provides: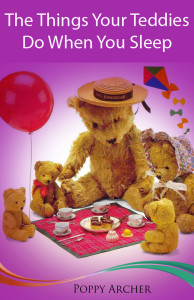 In this charming and imaginative book, children are taken on a journey. The story tells of the mischief and fun that their teddies engage in while the child sleeps, connecting the themes of their dreams with their teddy bears' nighttime activities.
With pictures to illustrate each scenario, Poppy Archer's, "What Your Teddies Do When You Sleep" is an ideal bedtime story for any small child. It is currently available exclusively on Amazon Kindle.
It is also available on Amazon in other countries, including: